Researchers say they've developed a course of that makes use of "highschool chemistry" that would make the constructing concrete trade carbon-neutral by recycling the carbon it makes use of.
At current, many cements utilized in constructing concrete are made by heating limestone (calcium carbonate) to greater than 1000 levels.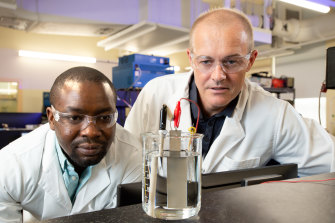 The method releases carbon dioxide as a byproduct, with almost 900 kilograms of the greenhouse fuel emitted for over 1000 kilograms of cement produced this manner, making the trade a small however important contributor to world ranges of carbon dioxide, contributing about 7 per cent of general emissions.
With urbanisation anticipated to extend over the following 50 to 100 years, the trade's footprint is predicted to develop until it takes measures to cut back the quantity of the greenhouse fuel it produces.
Researchers at QUT have developed a comparatively easy technique to recapture the fuel launched as a byproduct of the cement manufacturing, and use it to make extra cement.
Professor Anthony O'Mullane, mission chief on the QUT Centre for Clear Vitality Applied sciences and Practices, stated their course of used a chemical response in water to seize the carbon atoms from the carbon dioxide.
"We use an electrochemical cell to separate the water molecules, which makes an alkaline answer, which kinds carbonate ions within the answer," he stated.
"If we have already got calcium within the answer then the ions mix and precipitate out as calcium carbonate."
That calcium carbonate can then be heated to provide a contemporary batch of cement, creating a brand new provide of carbon dioxide that may then be become contemporary calcium carbonate, with the method capable of cycle via time and again.